Ravenswood Manor Garage Sale
NEW DATE:
September 12, 2021 10:00am – 4:00pm
140+ Households, 1000s of Bargains, 15 Alleys to Explore
Every year Ravenswood Manor, a lovely and picturesque northwest side neighborhood, organizes its large, community-wide, garage sale. Spend your Sunday exploring the many bargains in the alleys and on the sidewalks of the neighborhood. 140+ households offer 1000s of bargains. Opens at 10:00am and closes at 4:00pm, rain or shine.
Ravenswood Manor extends from Lawrence (4800N) on the north, to Montrose (4400N) on the south, from the north branch of the Chicago River on the east to Sacramento (3000W) on the west. It is west of Lincoln Square on the east side of Albany Park. See directions and map below.
Map: Look for sales in the alleys and sidewalks throughout our neighborhood. The map below will be updated as sellers are registered.
Sellers: Registration now open! Please go to the registration page to add your name to the list and make a donation to support the costs of the sale. Thank you. ravenswoodmanor.com/garagesalesignup/
The annual Garage Sale is usually on the 3rd Sunday of May, the Sunday after Mother's Day. This year the sale has been rescheduled to September 12 due to COVID.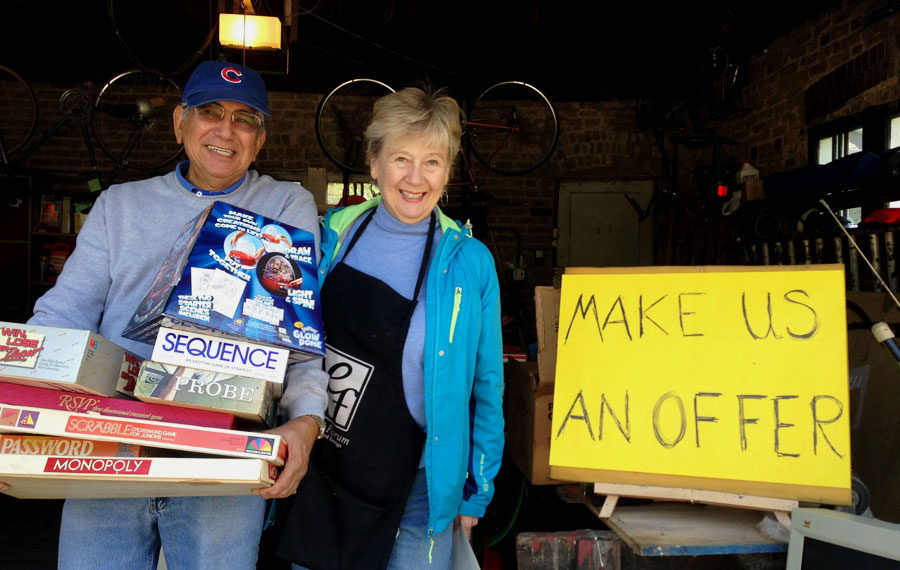 Transportation
Easy to get to on the CTA Brown Line stopping at the Francisco Station. Walk north or south from the station.
CTA bus route 78 Montrose, east or west, get off at California, walk north into the neighborhood.
CTA bus route 81 Lawrence, east or west, get off at Sacramento, walk east to Manor and south into the neighborhood.
Driving
Here are Google Maps shortlinks to driving directions that lead you to the middle of the neighborhood, Ravenswood Manor Park:
1) Lake Shore Drive, north or south, Lawrence Ave exit: https://goo.gl/maps/j2FC9jQxdS32
2) Edens Expressway I94 eastbound, Cicero exit: https://goo.gl/maps/LEEFDRPBbuxPdsPF7
3) Kennedy I90/94 westbound, Diversey exit to California: google maps link
4) Kennedy I90 eastbound, Lawrence exit: google maps link
Google Map, 2021 sellers
Coming soon!